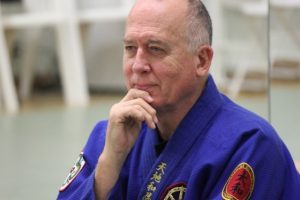 About Sensei Chadwick Minge, School Director (Kancho)
Chadwick Minge, a native of New Orleans, first moved to Covington, LA after his father, Dr. J. Chadwick Minge, Jr. relocated his family here, to become the first Anesthesiolgist at St. Tammany Hospital.  After many years of studying abroad, and practicing his art, in 2015, Sensei Minge decided to move his family back to Covington – back to his home – and enroll his twin daughters in high school, where they are currently Juniors.
Sensei Minge's introduction to Martial Arts came during a tour of duty in the military, serving with the 82nd Airborne with an attachment to the 7th Special Forces Group, where he served as a Senior Medical Specialist. After his tour of duty, Mr. Minge traveled extensively overseas, working in security and as a troubleshooter for private parties, corporations and several overseas government agencies. After 17 years living as an expatriate, he returned to the States and moved to Los Angeles.
Shortly after he began training in the traditional Japanese Warrior Arts, he met Grand Master Shoto Tanemura who invited Sensei Minge to live and study in Japan as his personal student. The Grandmaster requested that Sensei Minge return to Los Angeles to open a Dojo (School) to the public. This Dojo was to be the foundation school for the United States in the Grandmaster's Lineage, and was thus given the name of Yamato Dojo.  Sensei Minge's school, Studio City Martial Arts is still in operation, and has won numerous awards, including "Best Martial Arts School" in Los Angeles.   It remains as one of the longest, continually operating martial arts schools in the United States.    In the past several decades, many schools of martial arts have emerged and there are numerous claims to fame, many of dubious or unverified origin.  Thus creating great controversy and confusion amongst students of the arts.  When choosing a master teacher in any art form, it is wise to verify origins and lineage of those teachers.
In addition to teaching at his two schools, Studio City Martial Arts in Los Angeles, Ca; and The Dojo – Yamato Dojo Covington, LA,  Sensei Minge works as a security consultant and bodyguard, instructs at various police departments across the country, gives Tai-jutsu seminars at our affiliated licensed schools, and writes for Martial Arts publications.  As a film and television consultant, Sensei Minge has worked on numerous projects including a stint training Val Kilmer for Batman, and has recently served as the martial arts consultant for Nickolodeon's Teenage Mutant Ninja Turtles series.
Do you have a Question for Kancho?